Rumble: The Indians Who Rocked the World

Stevie Salas is Executive Producer of the Native American documentary film "Rumble: The Indians Who Rocked the World."
Named after the 1958 Link Wray smash hit, "Rumble" traces the influence of Native Americans on nearly a century of popular music in an eloquent and engaging way. American popular music – and the history of rock and roll itself – certainly would not have been the same without the contributions of Native American performers.
After decades of official government oppression, however, many Indian musicians were reluctant to reveal their heritage and it wasn't until almost the 1960s that a sense of ethnic pride emerged.
"Rumble" is inspired by Salas' own personal journey in the music industry. A Native American and top-notch guitarist for superstars like Rod Stewart and Mick Jagger, Salas often wondered why no one around him looked the way he did. He has researched the topic for years and unveiled his discoveries in a 2010 Smithsonian exhibit called "Up Where We Belong: Native Musicians in Popular Culture." The exhibit changed the written history for Native American musicians and became the substantive basis for "Rumble" in its examination of the often-under-appreciated role Native Americans played in the development of American popular music.
The film examines 10 different musical icons of Native American ancestry, ranging from Delta blues great Charley Patton to iconic electric guitarist Jimi Hendrix – who was part Cherokee – to living legend Robbie Robertson of Mohawk descent. The principal cast includes also Buffy Sainte-Marie, Martin Scorsese, Tony Bennett, Steven Tyler and Iggy Pop.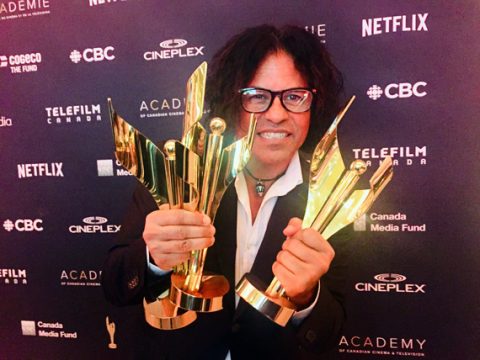 Stevie holding 3 winning statues at the 2018 Canadian Screen Awards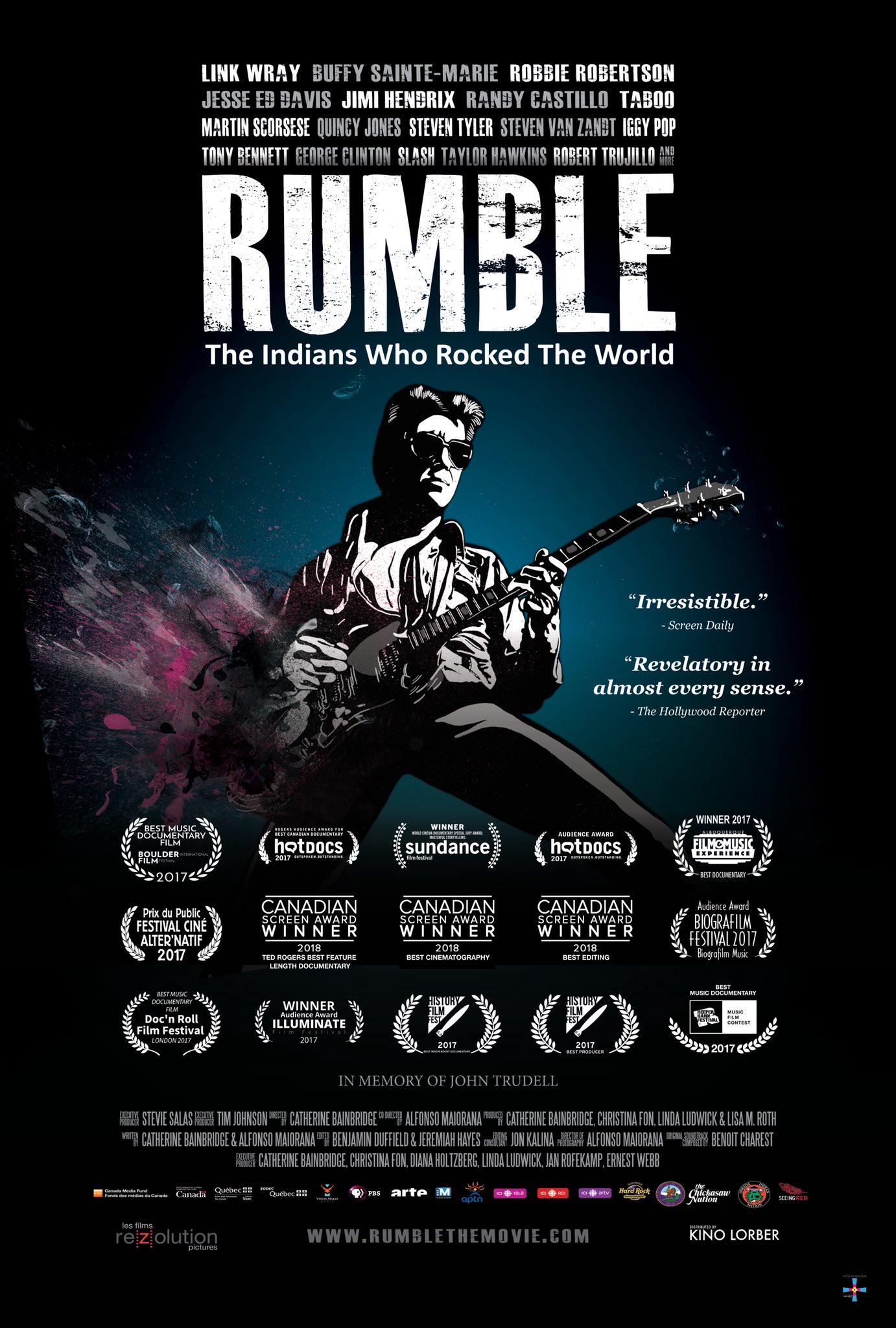 The 2018 Rumble Poster
Screenings
Rumble opens across North America, please check the upcoming screenings.
Awards
Sundance Film Festival 2017 – Special Jury Award for Masterful Storytelling
Boulder International Film Festival 2017 – Best Music Documentary
Hot Docs International Film Festival (2 awards!), Toronto – Rogers Audience Award for Best Canadian Documentary 2017 and Hot Docs Audience Award 2017
Audience Award, Illuminate Film Festival, Arizona 2017 – Audience Award
Albuquerque Film and Music Festival, New Mexico 2017 – Best Documentary
Biografilm Festival Music Section, Bologna, Italy 2017 – Audience Award
History Film Festival, Rijeka, Croatia 2017 – Best Producer and Best Independent Film 
Reeperbahn Festival, Hamburg, Germany 2017 – Best Music Documentary 
Festival Ciné Alter'Natif, Paris, Nantes and La Turballe, France 2017 – Prix du Public 
Doc'n Roll Film Festival, London, UK 2017 – Winner Best Feature Doc
Critics Choice Awards, Santa Monica, California, USA – Nominee 
Canadian Screen Awards by the Academy of Canadian Cinema and Television – Best Feature Length Documentary, Best Cinematography in a Documentary and Best Editing in a Documentary.
Rumble – The Indians Who Rocked the World Trailer
Sundance Film Festival: Meet the Artist