This book is a backstage pass to the ups, downs, and all-out craziness of arena rock—deep discussions with Rod Stewart, jamming with legends like Mick Jagger and Duran Duran, gaining groupies, and striking out solo.
Stevie Salas was one of many boys coming of age in the 1980s—when the American dream was rock superstardom. As lead guitarist for a San Diego band, Salas played backyard parties and school dances. But when Salas auditioned for Rod Stewart—where he was the youngest band member by a decade—his life truly hit a turning point.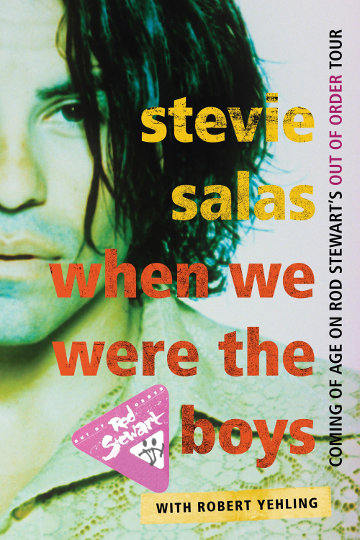 Just when things were getting dull, Stevie Salas pops his head above the parapet, waving his (very personal, I must say) take on the life full-throttle. It's rock 'n' roll taken to a place called EXTREME. Those with an aversion to sex & drugs, read at your own risk.
– Simon Le Bon, singer, songwriter, Duran Duran
Stevie Salas has been my rock 'n' roll buddy for the past twenty-five years. He's achieved the greatest thing in our game: he lived a life worth living, and then was able to remember it all long enough to write it down!

— Slim Jim Phantom, The Stray Cats
Rock 'n' roll pirate Stevie Salas spins a captivating yarn about his days aboard the great ship Rock Star. A fast and fun read, full of brass, balls, and bollocks, much like the man himself.


— Sass Jordan, multi-platinum recording artist
Stevie Salas is the ultimate insider, and When We Were the Boys is your backstage pass. This book is a vibrant, unfiltered collection of stories from a rookie guitarist earning his stripes with rock legends—from hazing to Hooters girls, and everything in between.
— Spike Feresten, Emmy Award–winning writer, producer, and comedian whose work includes Seinfeld
Stevie's one of the busiest people in the biz, but at the end of each day, he's just a kid who's a massive fan of music. It's great to be able to have this book by one of the most sought-after guys in music—and read about ALL of the things he was up to.
— Mike Halloran, legendary alt-rock radio DJ
Stevie's expertise and diverse musical abilities were invaluable when we worked with the contestants from American Idol. Now, after reading When We Were the Boys, I think that most of his 'diverse musical abilities' came on the fly!
— Stirling McIlwaine, music business manager
This book isn't a front row seat—it's an unlimited access backstage pass to the world of rock 'n' roll. Two masters of their crafts, Stevie Salas and Bob Yehling, pool their talents to put you onstage with Stevie in what could be described as one of the most amazing true 'rock 'n' roll fantasies' ever. A great, great read.
— Ken Kebow, Emmy Award–winning producer/director
Stevie Salas gave me my first break. He busted my ass, but he showed me that music isn't about perfection; it's about feeling—about finding the groove of the song. Stevie taught me that music is a work in progress, and he proves that in When We Were the Boys. If not for Stevie, I could possibly be delivering a pizza to your house tonight. For that, and many other reasons, I'll love the guy forever.
— Taylor Hawkins, Foo Fighters
We met Stevie shortly after he left the Rod Stewart Band. Jeff Healey was a funny cat when it came to guitar players. He would interact with very few during our live shows, but he really dug Stevie's playing from day one and would have him sit in whenever possible. This led to a great friendship and writing partnership—as well as some killer good times.
— Tom Stephen, manager/drummer, The Jeff Healey Band
I loved When We Were the Boys. It shows how hard work, perseverance, talent, and a healthy ego got Stevie Salas from a teenage guitar-playing surfer in Oceanside, California, to touring the world with Rod Stewart. The craziness of being on a major rock 'n' roll tour is all here: the private jets, the trashed hotel rooms, the limousines that Stewart occasionally stole, the booze, the drugs, and the women—lots and lots of women. This book is well-written and contains great photos. You won't want to put it down!
— Jim McInnes, legendary San Diego radio DJ
Stevie, Stevie, Stevie. I have to thank you for taking me back to one of the best times in my life with When We Were the Boys. I was in the band when you arrived, and you definitely brought a different energy to the band. It was a tough time to beat but an even tougher band to beat. We were on fire. Great job my brother!
— Jimmy Roberts, saxophonist, The Rod Stewart Band
It's funny but when I met Stevie Salas it was like meeting myself in my younger career. Having two Scorpios working together meant Fire without the Fear.
He stepped in loud, dreaming, with his volume turned up. Speaking through his guitar and givin' up the funk. You see, music speaks the truth, it never lies, it's like one big soul with nothin' to hide.
I named him Stevie-No-Wonder just because you never knew what he was gonna say. I will always be his big brother living a simple life of Plug & Play.
Thanks, little brother, for always staying true to the passion that you possess. Music & love is that thang that we 'Self-Express.'
Stay funky, my friend!
— Bootsy Collins